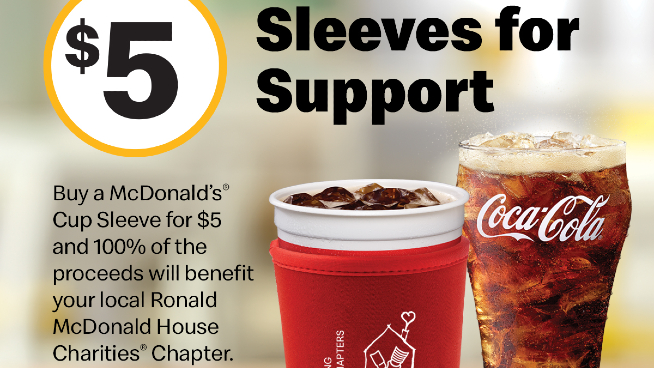 Get a sleeve for your drink and help support our local Ronald McDonald House Chapter in Topeka!
Local McDonald's restaurants are providing another way to support Ronald McDonald Charities of Northeast Kansas with the addition of the Sleeves for Support program. This fundraiser was developed in partnership with Coca-Cola and will generate funding for Topeka's Ronald McDonald House through sales of insulated beverage sleeves specifically designed to hold 30-ounce cups from McDonald's. Sleeves will be available for purchase beginning August 30 at $5 each while supplies last.
"We're excited to work with our partners at Coca-Cola to provide another option for our customers to support RMHC while enjoying their McDonald's favorites," said local McDonald's Owner/Operator, Kevin Dobski. "Not only do these insulated sleeves help RMHC they also help keep our guests' drinks colder longer!"
In addition to Sleeves for Support, local McDonald's restaurants give back through the Round-Up for RMHC program, where patrons can round their order up to the nearest dollar; through the Penny Per Happy Meal initiative where a portion of every Happy Meal sold benefits the Charity; and through RMHC Donation Boxes where customers can drop their spare change.
"The Sleeves for Support campaign is one of many ways McDonald's and its customers lend their support to the Ronald McDonald House," said Mindee Reece, CEO & Executive Director of Ronald McDonald Charities of Northeast Kansas. "McDonald's was the founding mission partner of our charity when the first RMHC Chapter opened 45 years ago, and the local McDonald's team has always been an integral part of helping us fulfill our mission to create, fund and support programs that directly improve the health and well-being of children and their families."